Flag of Albuquerque
Adopted
February 1969 (?)
Designed by
Dr. Richard T. Vann
Proportions
2:3
The flag of the city of Albuquerque, New Mexico, in the United States of America, consists of a red background, with a yellow Zia symbol just above the center of the flag, the word "Albuquerque" below the Zia symbol, in yellow, the word "1706" inside the circle of the Zia symbol, in yellow, and a yellow sylized thunderbird in the canton area, flying towards the center of the flag.
Symbolism
Edit
Red and yellow are the colors of
New Mexico
, and the Zia symbol is a symbol of
New Mexico
. The word "Albuquerque" represents...you can figure that out. The word "1706" represents the year 1706, the year that Albuquerque was founded as a city. The thunderbird is a symbol of Albuquerque.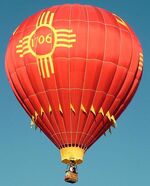 References
Edit
Ad blocker interference detected!
Wikia is a free-to-use site that makes money from advertising. We have a modified experience for viewers using ad blockers

Wikia is not accessible if you've made further modifications. Remove the custom ad blocker rule(s) and the page will load as expected.