Flag of Bavaria
Adopted
December 2, 1946[1]
Designed by
(unknown)
Proportions
3:5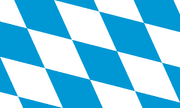 Bavaria (German: Bayern), a federal land of Germany, has two official flags, both white and blue: the lozengy one, and the horizontal bicolour. The lozengy flag must have at least 21 lozenges (including the incomplete ones), with upper hoist being white.
Bavaria does not have distinct state and civil flags. The lozengy flag defaced with the Bavarian coat of arms is the de facto used civil flag, even though it has no official status.
Symbolism
Edit
According to the German heraldic tradition, the colours of the flag reflect the colours of the coat of arms. They are associated with the Wittelsbach family that ruled Bavaria. Probably the colours reflect the Wittelsbachs' family name: Wittel — "white", Bach — "brook".
The colours are popularly associated with a line of the Bavarian anthem: die Farben deines Himmels, Weiß und Blau ("the colours of your sky, white and blue").
References
Edit
Ad blocker interference detected!
Wikia is a free-to-use site that makes money from advertising. We have a modified experience for viewers using ad blockers

Wikia is not accessible if you've made further modifications. Remove the custom ad blocker rule(s) and the page will load as expected.