Flag of Berlin
Adopted
May 26, 1954
Designed by
Ottfried Neubecker
Proportions
3:5
The civil flag of Berlin, the capital city and one of the federal lands of Germany, is a horizontal triband of red, white (tripple width), and red, defaced with a black bear upon the white stripe.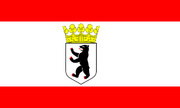 The state flag is the same as the civil flag, but shows the whole coat of arms instead of the bear alone.
Symbolism
Edit
The bear is the symbol of the city. The word "Berlin" comes from the word Bär meaning "Bear". Red and white are the colours of Brandenburg.
The bear appeared on the seal of Berlin in 1280.
Originally Berlin used the colours of Prussia: black and white.
In 1861 after the coronation of Wilhelm I, red colour was added, to make the city colours distinct from the colours of Prussia. But in 1867 the North German Confederation and in 1871 the German Empire adopted a flag of the same colours and the confusion arose again. Also the flag could be confused for a faded black-red-yellow flag of 1848.
In 1911 the mayor of Berlin asked Ernst Fidel, the head of the Branderburgia Society, to design a flag of Berlin, and he proposed a flag similar to the current one. It was in use since 1913 alongside with other flags of similar design.
The current flag was designed by Ottfried Neubecker, it won the second place in the contest of 1952, the winner being rejected by the Senate. It was adopted for West Berlin on May 26, 1954.
East Berlin used a flag similar to the current state flag, with narrow white stripes added at the top and at the bottom, and different crown.
In 1990, after the city was reunited, the current flag was adopted for whole city.
References
Edit
Ad blocker interference detected!
Wikia is a free-to-use site that makes money from advertising. We have a modified experience for viewers using ad blockers

Wikia is not accessible if you've made further modifications. Remove the custom ad blocker rule(s) and the page will load as expected.