Flag of Botswana
Adopted
September 30, 1966 [1]
Designed by
George Winstanley [2]
Proportions
2:3
The flag of Botswana consists of a light blue background, with three horizontal stripe in the center of the flag (top to bottom: white, black, white). The white stripes are thinner than the black one.
Symbolism
Edit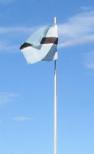 The blue represents Botswana's need for water. The black and white represent the people of Botswana.
References
Edit
Ad blocker interference detected!
Wikia is a free-to-use site that makes money from advertising. We have a modified experience for viewers using ad blockers

Wikia is not accessible if you've made further modifications. Remove the custom ad blocker rule(s) and the page will load as expected.