Flag of California
Adopted
February 3, 1911 [1]
Designed by
William L. Todd[2]
Proportions
2:3
The flag of the U.S. state of California consists of a white background with a horizontal red stripe on the bottom of the flag, with a red five-pointed star in the canton area of the flag. In the center of the flag is a brown grizzly bear , facing towards the hoist, on top of a green patch of grass.
Symbolism
Edit
The flag was based on the historic Bear Flag of California, but with a few changes. The five-pointed star is a carryover from the California Lone Star flag, created for the revolt of 1836.
Pear Flag
Edit
The original Bear Flag was the result of an error in a flag description. The flag was originally meant to feature a pear, not a bear. [3]
Misspelled Flag
Edit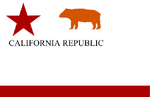 According to the Sonoma State Historic Park, the construction of the flag was described as such:
"
At a company meeting it was determined that we should raise a flag, and that it should be a bear en passant [French: 'in passing'], with one star. One of the ladies at the garrison gave us a piece of brown domestic, and Mrs. Captain John Sears gave us some strips of red flannel about 4 inches wide. The domestic was new, but the flannel was said to have been part of a petticoat worn by Mrs. Sears across the mountains…I took a pen, and with ink drew the outline of the bear and star upon the white cloth. Linseed oil and Venetian red were found in the garrison, and I painted the bear and star…Underneath the bear and star were printed with a pen the words 'California Republic' in Roman letters. In painting the words I first lined out the letters with a pen, leaving out the letter 'i' and putting 'c' where 'i' should have been, and afterwards the 'i' over the 'c'. It was made with ink, and we had nothing to remove the marks.

William L. "Bill" Todd, artist of original Bear Flag[4]

"
References
Edit
Ad blocker interference detected!
Wikia is a free-to-use site that makes money from advertising. We have a modified experience for viewers using ad blockers

Wikia is not accessible if you've made further modifications. Remove the custom ad blocker rule(s) and the page will load as expected.