Flag of the Dominican Republic
Adopted
1908[1]
Designed by
Juan Pablo Duarte[1]
Proportions
5:8[2] or 2:3[3][4]
The flag of the Dominican Republic consists of a centred white cross that extends to the edges divides the flag into four rectangles — the top ones are blue (hoist side) and red, and the bottom ones are red (hoist side) and blue; a small coat of arms featuring a shield supported by an olive branch (left) and a palm branch (right) is at the center of the cross; above the shield a blue ribbon displays the motto, DIOS, PATRIA, LIBERTAD ("God, Fatherland, Liberty"), and below the shield, REPUBLICA DOMINICANA appears on a red ribbon.[5]
The aspect ratio is 5:8 for the national flag and 1:2 for the naval ensign.[2]
Other national flags
Edit
Symbolism
Edit
The blue represent the sky
The red represents the blood shed by the patriots
The white represents dignity, the peaceful character of the Dominicans and their dedication to peace.[6]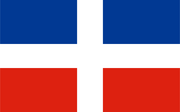 Christopher Columbus visited the island of Hispaniola in 1492, claiming it for the Spanish monarchy. However, French colonists in the 17th century established a state known as Saint-Domingue (Saint-Dominique) in the western part of the island, which subsequently became Haiti. The Spanish-speaking area in the east was conquered by the newly independent Republic of Haiti in 1822. One of the national flags of Haiti had equal horizontal stripes of blue and red, and it was that flag that formed the basis for the revolutionary banner eventually raised in the Spanish-speaking areas.
The Dominican revolutionary group known as La Trinitaria emphasized its Christian heritage by placing a white cross on the background of the blue-red flag. The revolution led by La Trinitaria broke out on February 27, 1844, and the flag, designed by Juan Pablo Duarte, was hoisted the next day. The success of the independence movement led to a constitution for the country, which established the official flag on November 6, 1844. The constitution of 1878 specified that the flag must be charged with the national coat of arms in the centre. According to the constitution of 1908 the order of the colours at the fly end was reversed, so that henceforth the blue and red would alternate, with the white cross between them. Unofficially the flag with altered colours was used at least since 1849.[7][3]
References
Edit