Flag of Fiji
Adopted
October 10, 1970 [1]
Designed by
Robi Wilcock and Murray MacKenzie [2]
Proportions
1:2
The flag of Fiji is light blue with the Union Jack as its canton. The Fijian national shield of arms is located in the centre fly.
Symbolism
Edit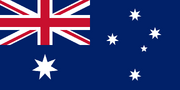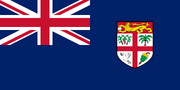 The original flag was to have a regular blue-coloured background. However, the flags of Australia, New Zealand, and many others already adopted similar flags. The designers of the Fijian flag therefore decided to change the background colour to a lighter shade of blue, representing the Pacific Ocean. They also placed the Fijian national coat of arms in the centre fly.
On January 2nd 2013, the leader of Fiji announced that the flag would be changed. It would promote a new idendity. It is unsure when this new flag will be unveiled and adopted.
References
Edit
Oceania
| | | | |
| --- | --- | --- | --- |
| Australia | Fiji | Indonesia | Kiribati |
| Marshall Islands | Micronesia | Nauru | New Zealand |
| Palau | Papua New Guinea | Samoa | Solomon Islands |
| Timor-Leste | Tonga | Tuvalu | Vanuatu |
Dependencies and other territories
Ad blocker interference detected!
Wikia is a free-to-use site that makes money from advertising. We have a modified experience for viewers using ad blockers

Wikia is not accessible if you've made further modifications. Remove the custom ad blocker rule(s) and the page will load as expected.