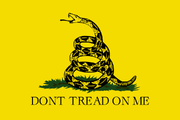 This is an American historical flag known as the Gadsden Flag. Centered on this flag is a loosely coiled rattle snake with its' mouth open ready to strike. It rests on a green patch of grass. Beneath the image is the inscription "DONT TREAD ON ME".
This flag, named after Colonel Christopher Gadsden of South Carolina, was flown early in 1776 by Commodore Esek Hopkins of Rhode Island, first Commander-in-chief of the Continental Fleet.
Symbolism
Edit
Its inscription represented a warning by the colonists to the British.