The flag of the American state of Illinois consists of a white background, with a stylized version of the image in the state seal in the center of the flag, with a blue "ILLINOIS" at the bottom of the flag below the image.
Design story
Edit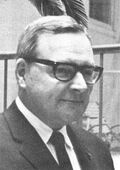 In 1969, Illinois Governor Richard Buell Ogilvie appointed a committee of historians to design a new state flag. Mrs. Sanford Hutchinson designed the current flag with the word "ILLINOIS" below the emblem as an addition to Lucy Derwent's original design. The new design was adopted in 1970.
Symbolism
Edit
The state seal of Illinois and the word "ILLINOIS" both represent Illinois. The white background has no symbolism.
References
Edit
Ad blocker interference detected!
Wikia is a free-to-use site that makes money from advertising. We have a modified experience for viewers using ad blockers

Wikia is not accessible if you've made further modifications. Remove the custom ad blocker rule(s) and the page will load as expected.