Kansas State Banner
Adopted
March 1925 [3]
Designed by
(unknown, based on legislative description) [4]
Proportions
3:4
The flag of Kansas is blue with a stylized version of the state seal of Kansas just above the center of the flag. Above the seal is a stylized version of the Kansas state military crest, featuring a sunflower. Underneath the seal in large yellow lettering is the word "KANSAS".
Symbolism
Edit
The flag is charged with the Great Seal of the State of Kansas and the state military crest. The word "KANSAS" was added to the lower portion of the flag in 1961[5], in order to distinguish it from so many other blue-colored state flags when displayed at national events.
State Banner
Edit
The state banner was adopted in 1953, an updated version of the original 1925 design, which was adotped by the state legislature before the flag was in 1927. The 1925 design of the banner was a golden sunflower on a blue field with the word "KANSAS" in gold above.
Historical Flags
Edit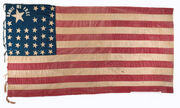 The "Admit Me Free" flag was flown by "free-staters", those who advocated the then U.S. territory Kansas being admitted to the Union as a "free" or non-slaveholding state during the late 1850's. It was frequently used by Republican Party Presidential candidates during the 1856 and 1860 elections to show support for a free Kansas, when Kansas' statehood was a major issue.
References
Edit