Flag of Labrador
Adopted
(unknown)
Designed by
Mike Martin[1]
Proportions
1:2
The flag of Labrador is a horizontal tricolor (white, green, light blue), with the white and blue stripes' width double the width of the green stripe in the center. In the canton area of the flag is a green stylized spruce twig.
Symbolism
Edit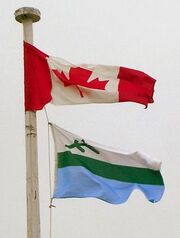 White represents Labrador's snow, green represents Labrador's land, blue represents Labrador's water, and the spruce twig represents Labrador's spruce tree.
References
Edit
Ad blocker interference detected!
Wikia is a free-to-use site that makes money from advertising. We have a modified experience for viewers using ad blockers

Wikia is not accessible if you've made further modifications. Remove the custom ad blocker rule(s) and the page will load as expected.