Flag of Lower Saxony
Adopted
May 1, 1951 (enacted); April 13 (passed)
Designed by
(unknown)
Proportions
2:3
The flag of Lower Saxony (German: Niedersachsen), a federal land of Germany, is a German tricolour of black (upper stripe), red, and gold, superimposed by the coat of arms (slightly shifted to the hoist side): white horse upon red background.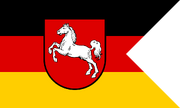 The aspect ratio of the flag is 2:3. The height/width proportion of the coat of arms is 7:6, the height of the coats is 2/3 of the flag's height, and the centre of the coats is placed 14/30 of the flag's length away from the hoist.
The state flag on sea (ensign) is the same as common flag, but swallow-tailed.
Symbolism
Edit
The flag uses the German tricolour as a neutral symbol that can represent all the four constituent territories (Braunschweig, Oldenburg, Schaumburg-Lippe, and Hannover).
The Saxon horse is main element of the coats of arms of Brauschweig and Hannover.
Lower Saxony was founded as Land Niedersachsen on 1st November 1946 as a merger of the former Länder Brunswick (Braunschweig), Oldenburg, Schaumburg-Lippe, and Hannover. Due to the long tradition of own arms and flags in these former territories, it was especially difficult to find a common flag for the new Land Niedersachsen. Some unofficial flags existed 1946-1951. Although a red-white (or white-red) flag with the arms would have been appropriate for the Land Niedersachsen, as these are the colours of the arms (livery colours), this solution was viewed as only representing Hanover and not the other parts of Lower Saxony. A combination of the colours of the flags of all four constituent territories (red, white, blue, yellow) was also not feasible, so the final compromise was to use the German national flag (black-red-gold) with the Lower Saxony coat-of-arms on it.[1]
References
Edit
↑

Rabbow 1999; Kuhn 1991, p. 90; Schnath 1961, Reihe B Heft 6; and Schurdel 1995.
Ad blocker interference detected!
Wikia is a free-to-use site that makes money from advertising. We have a modified experience for viewers using ad blockers

Wikia is not accessible if you've made further modifications. Remove the custom ad blocker rule(s) and the page will load as expected.