This article is about the flag of the former Yugoslav Republic of Macedonia. For the flag of the region of Greece, see Macedonia, Greece.
Flag of Macedonia
Adopted
October 5, 1995
Designed by
Pr. Miroslav Grcev
Proportions
1:2[1]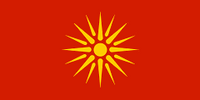 The flag of Macedonia is a rising yellow sun with eight rays extending to the edges of a red field.
Symbolism
Edit
The original national flag of the newly independent Republic of Macedonia was the sun of Vergina in gold on a red field. The flag was deemed unacceptable by neighbouring Greece which perceived the Vergina sun as an exclusively Greek symbol. Macedonia decided to scrap the symbol to be able to open diplomatic and economic relations with Greece. The Vergina sun was replaced by a sun of a different design in 1995, this sun evokes "the new sun of Liberty", as mentioned in the Macedonian national anthem:
"
Today over Macedonia, is being born


the new sun of liberty.
The Macedonians fight,
for their own rights!

"
References
Edit
Featured Article

Macedonia

This page was featured on the VexiWiki main page on February 2009.
European Nations
Edit
Ad blocker interference detected!
Wikia is a free-to-use site that makes money from advertising. We have a modified experience for viewers using ad blockers

Wikia is not accessible if you've made further modifications. Remove the custom ad blocker rule(s) and the page will load as expected.