Flag of New Mexico
Adopted
March 15, 1925 [1]
Designed by
Dr. Harry P. Mera [2]
Proportions
2:3 [3]
The flag of New Mexico consists of a yellow background with a red Zia Sun symbol in the center of the flag.
Symbolism
Edit
Yellow and red are the colors of Spain, and the Zia Sun symbol, a symbol of the native New Mexican Zia Pueblo Indians, represents the four gifts of four things. Three of these are the stages of life, seasons of the year, and the cardinal directions. [4]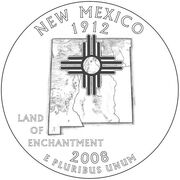 The current flag of New Mexico is commonly mistaken to be the second flag of New Mexico, although it is really the first. Many people consider a flag designed for a state flag exhibit at the 1915 World's Fair in San Diego, California, to be the first, although the flag was made up for the exhibit, since New Mexico was the only United States state to not have an official flag at the time.
The Zia Indians of New Mexico are upset about the use of their symbol (considered sacred to them) on their flag, and are currently trying to force the New Mexico State Legislature to take the Zia symbol off of the New Mexican flag. This would also mean the Legislature would have to take the Zia symbol off of any work of the federal government, including the 2008 New Mexico Comemorative State Quarter.
References
Edit