Flag of Quebec
Adopted
March 9, 1950 [1]
Designed by
Elphège Filiatrault [2]
Proportions
2:3 [3]
The flag of Quebec, Canada, known as Fleurdelysé, [4] is blue with a white cross through the centre, dividing the flag into quarters; in each quarter there is a white fleur-de-lis.
Symbolism
Edit
The flag combines an old French ensign (white cross upon blue background — it was used in Jacques Cartier's time, and appeared during the Hundred Years War) with fleurs-de-lis, which originally come from the coat of arms of the House of Valois (white standards with Valois coat of arms also were used by early explorers of Canada).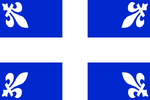 The current flag is direct descendant of the banner used during parade in Quebec City on June 24, 1848. Its design was based on an old flag found in Montreal and attributed to the victorious French Canadian troops at the Battle of Carillon in 1758.
On September 26, 1902, Elphège Filiatrault, a parish priest from Saint-Jude, near Saint-Hyacinthe, raised on his presbytery a banner that he called the Drapeau de Carillon. On March 24, 1903 in Quebec City, a flag committee adopted the Carillon bearing in its centre the Sacred Heart as the national emblem of French Canadians. Four days later, the Montreal committee adopted the same flag, followed by the committee in Saint Boniface, Manitoba.
Canadian red ensign was unpopular in Quebec, and in 1946 the provincial legislature sanctioned the concept of a distinctive Quebec flag. The Premier Maurice Duplessis issued an order in council on January 21, 1948, that approved the flag now in use. Legislative approval was given to that flag on March 9, 1950. Quebec became the first of the provinces of Canada to adopt a flag.
January 21 is celebrated as Flag Day in Canada.
References
Edit
Featured Article

Quebec

This page was featured on the VexiWiki main page on March 9-15, 2009.