Flag of Saxony-Anhalt
Adopted
January 30, 1991
Designed by
(unknown)
Proportions
3:5
The civil flag of Saxony-Anhalt (German: Sachsen-Anhalt), a federal land of Germany, is a bicolour of yellow over black.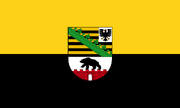 The state flag is the same, but with the coat of arms in the middle.
Symbolism
Edit
The flag is based on the flag of the former Prussian Province of Saxony, which in its turn was based on the older (pre-1806) flag of the Kingdom of Saxony.
After World War Two, Anhalt was combined with the former Prussian Province of Saxony to become the state (Land) of Sachsen-Anhalt, abolished 1952 but then later re-established 1991.
After the reintroduction of Länder in the German Democratic Republic in 1990 there were several flags that were used inofficially in Saxony-Anhalt. The law on the new symbols was passed 20th December 1990 and enacted 30th January 1991.
References
Edit
Ad blocker interference detected!
Wikia is a free-to-use site that makes money from advertising. We have a modified experience for viewers using ad blockers

Wikia is not accessible if you've made further modifications. Remove the custom ad blocker rule(s) and the page will load as expected.