Flag of Schleswig-Holstein
Adopted
January 18, 1957; in use since 1843.
Designed by
(unknown)
Proportions
3:5
The civil flag of Schleswig-Holstein, a federal land of Germany, is a horizontal tricolour of blue (upper stripe), white, and red.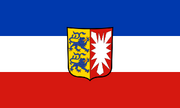 The state flag is the same but with the coat of arms in the centre.
Symbolism
Edit
According to the German heraldic tradition, the colours of the flag reflect the colours of the coat of arms. The flag and the coat of arms combine the colours of the former duchies of Schleswig (blue and yellow) and Holstein (silver and red). The second colour of Schleswig (yellow) is not represented, partially because the 19th century's citizens wanted their flag to be similar to the tricolour of France.
The flag was introduced in 1843 and banned in 1845. It was reintroduced in 1867 after the Prussian conquest of Schleswig-Holstein. It was again abolished in 1935.
After the British Military Government made Schleswig-Holstein a German state in 1946, this flag was first hoisted after some debate on August 29, 1946. It was formally established as the flag on January 18, 1957.
References
Edit
Ad blocker interference detected!
Wikia is a free-to-use site that makes money from advertising. We have a modified experience for viewers using ad blockers

Wikia is not accessible if you've made further modifications. Remove the custom ad blocker rule(s) and the page will load as expected.