Flag of Slovakia
Adopted
September 1, 1992 [1]
Designed by
National Council of the Slovak Republic [1]
Proportions
2:3 [2]
The flag of Slovakia consists of three horizontal stripes in the traditional Slavic colours of red, blue, and white, with the coat of arms of Slovakia added in the canton area.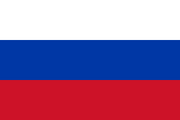 The first flag Slovakia had was adopted in 1848 when Slovakia was part of the Kingdom of Hungary, and was a tricolour of red, blue, and white. That flag, however, was unofficial and Slovakia had to wait until 1938 to get their first official flag. The country was then part of Czechoslovakia until 1990 when Slovakia adopted its plain three-striped flag. However, there was confusion between its flag and Russia's, so the flag was changed in 1992 to include Slovakia's coat of arms. [2]
Symbolism
Edit
The flag's coat of arms is an adapted version of Hungary's coat of arms, and symbolises Slovakia's past links with Hungary. The arms' cross represents Orthodox Christianity and the mountains symbolize the Tatra, Fatra and Matra mountain regions across the country. Blue, white and red are traditional Slavic colours and together they make up the pan-Slavic colours. They were initially adopted by Slavic nations in the mid-19th century and were influenced by the flag of Russia. The colours now stand for Slavic unity and independence and can be seen in the flags of most Slavic nations. [3]
References
Edit
European Nations
Edit
Ad blocker interference detected!
Wikia is a free-to-use site that makes money from advertising. We have a modified experience for viewers using ad blockers

Wikia is not accessible if you've made further modifications. Remove the custom ad blocker rule(s) and the page will load as expected.