Flag of the Union of South American Nations
Adopted
May 23, 2008 [1]
Designed by
(unknown)
Proportions
2:3?
The flag of the Union of South American Nations, often abbreviated by its Spanish and Portuguese acronyms UNASUR and UNASUL, is a red flag with a golden map of the South American continent within a golden ring.
The flag of UNASUR was first shown to the public at a summit in Brasilia on 23 May 2008, when the Constitutive Treaty was signed.
The flag seems to be based on the flag of the Alianza Popular Revolucionaria Americana.Ho Ho
Alternative flag
Edit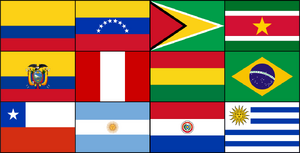 References
Edit
Ad blocker interference detected!
Wikia is a free-to-use site that makes money from advertising. We have a modified experience for viewers using ad blockers

Wikia is not accessible if you've made further modifications. Remove the custom ad blocker rule(s) and the page will load as expected.