Flag of United States Virgin Islands
Adopted
May 17, 1921 [1]
Designed by
Percival Wilson Sparks [2]
Proportions
2:3
The flag of the United States Virgin Islands is white with a simplified version of the Great Seal of the United States between the letters V and I (for Virgin Islands). The eagle holds a laurel branch in one talon, and three arrows in the other.
Symbolism
Edit
The bald eagle represents the United States authority over the islands. The three arrows represent the three major islands: Saint Thomas, Saint John, and Saint Croix. Additionally, the colors of the flag are: yellow, representing various characteristics of the territory and the flowers; green, symbolizing the hills; white, depicting the clouds; and blue, representing the waters.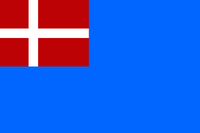 In 1672-1917 the islands remained part of the Danish West Indies and its administration used either flag of Denmark or a distinct Danish West Indies flag. [3]
The islands were purchased by the United States in 1917, after which the US national flag was flown. [4]
The concept or idea of a Virgin Islands Flag began with the administration of Rear Admiral Summer Ely Whitmore Kitelle, who was sworn in as governor of the Islands on April 26, 1921. He approached Mr. White, caption of the Grib, and Percival Wilson Sparks, and asked them for suggestions for a flag design. Sparks, a cartoonist, drew a design on paper. Afterwards Sparks transferred it on heavy cotton material, then asked his wife Grace and her sister Blanche Joseph to embroider the design.
References
Edit
Ad blocker interference detected!
Wikia is a free-to-use site that makes money from advertising. We have a modified experience for viewers using ad blockers

Wikia is not accessible if you've made further modifications. Remove the custom ad blocker rule(s) and the page will load as expected.