With each VexiWiki page, there is a corresponding talk page. These pages are provided for:
giving feedback about the page.
requesting information.
reporting any problems to be fixed.
giving opinions about the page's subject.
Talk page
Edit
To post something on a talk page, just click the "Talk" tab at the top of your VexiWiki screen.
Typing, signing, and saving
Edit
In the space provided, type whatever you need to say (keep it clean) and then sign your message with four tildes: ~~~~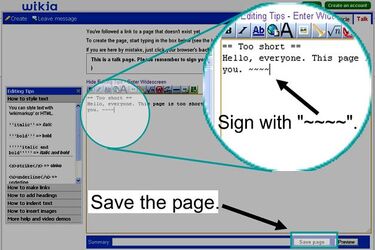 After you've finished your message, press the "Save page" button. Congratulations! You've started a talk page!
Ad blocker interference detected!
Wikia is a free-to-use site that makes money from advertising. We have a modified experience for viewers using ad blockers

Wikia is not accessible if you've made further modifications. Remove the custom ad blocker rule(s) and the page will load as expected.