Flag of Voronezh Oblast
Adopted
July 5, 2005 [1]
Designed by
K. Mochënov, Yu. Korzhik, M. Medvedev, R. Malanichev, O. Afans'yeva
Proportions
2:3
The flag of Voronezh Oblast, Russia, is red rectangle with width/length ratio 2:3 depicting the elements of the coat of arms of the oblast: yellow mountain slope coming down from the hoist side, formed of big stones, with white pitcher toppled over, from which water is pouring.
Symbolism
Edit
Mountain stands for hilly landscape of the oblast.
Pitcher stands for richness and fertility of the oblast's soils. [2]
On July 1, 1997, the Oblast Duma adopted a flag of the oblast based on flag of the Russian Soviet Federative Socialist Republic: red rectangle with blue stripe along the hoist side, charged with the coat of arms of the oblast.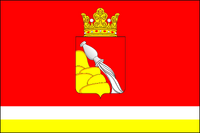 In Octoper 2007 a project of the new flag appeared at the official site of the oblast administration.[3]
References
Edit
Ad blocker interference detected!
Wikia is a free-to-use site that makes money from advertising. We have a modified experience for viewers using ad blockers

Wikia is not accessible if you've made further modifications. Remove the custom ad blocker rule(s) and the page will load as expected.